APPEARANCE

External Appearance


---
FEATURES

Application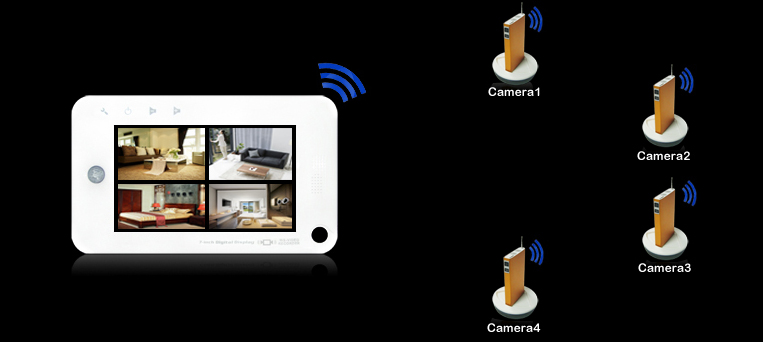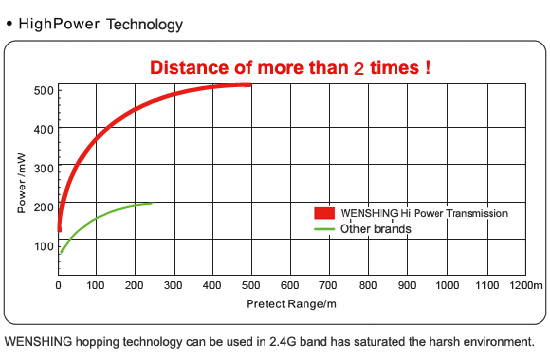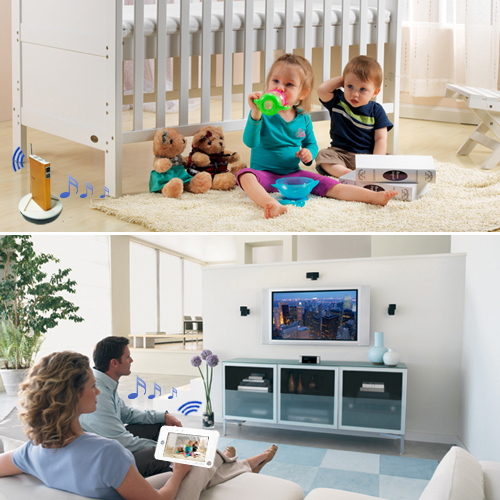 Technology:2.4GHz radio frequency, anti-interference, MPEG4 format, providing fully digitalized solution with sharp transmission of audio and video signals.

Distance:The furthest distance among peers in the same industry.

Product selection:Each receiver captures remote view from up to 4 cameras.

Video resolution:Split 4-screen image shown at 320*240 (QVGA), individual screen image shown at 640*480 (VGA).

Audio-video:Both 7?receiver and camera have built-in miniature microphone and speaker to record audio and video,with two-way transmission (Walkie-Talkie).

TV out: 7"receiver with TV output function supporting NTSC and PAL.

Expansion:Combining AV sender allows your own camera to work with 7"receiver.

Video recorder:32G Micro-SD allowing circulation recording,motion detecting,time recording and archive reviewing.

Detecting:Sending out alert while detecting the movement of objects.

Night vision:Embedded Infrared to automatically capture clear image under dark or insufficient-light surroundings.

Remote controlling:Record video and rotate angles of cameras 110 degrees through the control of 7"receiver remotely.

Power supply:High-capacity Lithium battery provides the time efficiency of video recording after fully charged.
---
SPECIFICATION
Technical specifications
WS VIDEO RECORDER Specification
Screen size:7 inch

Resolution: 800x480

Video quality: VGA resolution/ASF format

Image compression: MPEG4

Storage media: Micro SD (Support up to 32G)

Video system: NTSC/PAL

Speaker output power:0.5W

Expandable pairing: up to 4 cameras

Working voltage: 5V 1A

Battery: Rechargeable Lithium battery (3.7V/3000mA)

Power consumption: 500mA

Playback time: 4 hours

Dimension: 228.09*133.09*16.5mm

Weight: 380g

Operating temperature: -10℃~ + 50℃

Camera 2 Specification

Camera lens: 1/4 inch CMOS sensor

Rotation angle: 110 degree

Illumination: Built-in IR LED (automatically turn on/off)

Working voltage: 5V 1A

Battery: Rechargeable Lithium battery (3.7V/750mA)

Power consumption: 750mA

Playback time: 3 hours

Dimension:98*73*12mm

Weight:104g

Operating temperature: -10℃~ + 50℃

RF Specification

RF Frequency: 2.4GHz Hopping

Output power: 20dBm

Receiver sensitivity: -80dBm

Range: 500M (Straight-line distance)

Accessories

Power Adapter: 5V 1A*2

Video and audio signal cable*1

User manual*1

Advantages of wireless remote monitoring

Low initial cost, wireless, simple installation, easy maintenance, and strong expansion capability.

Connecting for usage right away, and adding wireless remote monitoring into network that you already have. Do not require purchasing new network or other equipment.

Low maintaining fee. The network provider will be in charge of the maintaining of wireless remote monitoring. The front-end connects for usage right away and does not need maintaining system.

Sending instant information from different places through wireless communication to wireless remote monitoring and it will set visual data automatically for retrieval in the future.Camera connects with wireless video transmitter and sending information signal to monitoring center through radio waves.